Nina Elle
m4rc0f
Nina Elle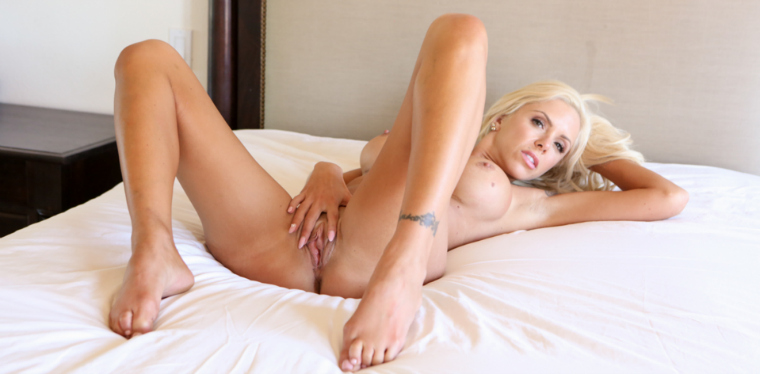 COUNTRY
Ludwigshafen, Germany
Bottom Line
As for her boobs, Nina says that they are her core competency in the field, and she is really very proud of them because they made her a lot of money. She has reshaped her boobs twice; once when she was 23 years old and then enhanced her jugs one more time for breast enlargement few years ago as she wanted to grow her boobs a little more.
Nina Elle
Nina Elle is a perfect mix of beauty and sex. This blond German slut is five ft 4 inches tall, and she weighs around 52 kgs. Nina Elle is based out of Ludwigshafen, Germany and her birthday is on April 28, 1980. This brown-eyed busty beauty has measurements of 34DD-24-36. She has an amazing pair of tits with lovely nipples.
Pretty Nina comes from Germany, where she had tossed around the country since childhood because her father was in the military. The family used to travel regularly back and forth to different military bases in Europe and the United States. As a result, blonde chick decided to start her life in the United States when she was 27. She moved to Northern California and got a job at a gas station at the same time earning as an assistant dentist. Elle just felt a lack of male attention and, therefore, decided to manifest herself in all her glory. In just a short time, she had thousands of fans admiring her for her body.
Nina Elle decided not to procrastinate with this thing and quickly signed a contract with the porn company ATMLA and moved to Los Angeles.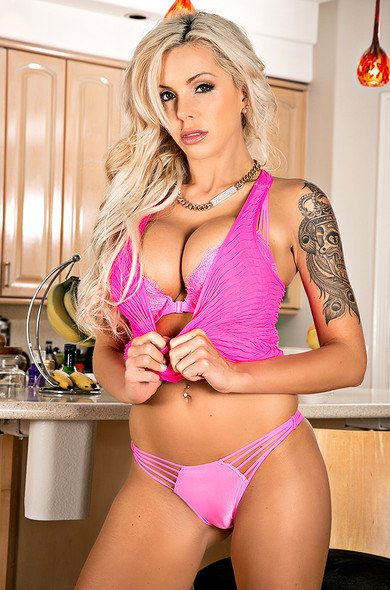 Her Porn Career
To begin with, busty MILF was not appearing in hardcore scenes and limited herself to solo performances or lesbian pleasures. Not so long ago, in 2014, the German beauty decided to go beyond the limits and to develop her talents to the maximum. That was the year she actually tried to gain fame, starring in more than three dozen different movies and commercials, showing her body from different angles and to prove that she is not the one who just plays limited genres. For all the time, she had to work with a huge number of major studios like Evil Angel, Brazzers, Digital Playground, Girlfriends Films, and many others. The girl was able to show her talent with the other porn stars, such as Nikki Benz, Ava Adams, Devon and others. The talent of this beauty turned out to be in great demand so that she has been scheduled in a number of new films.
Nina Elle long ago made a few tattoos that really made her body even more attractive and sexy – a skull with a pattern on the left shoulder, three stars behind his left ear, a few flowers on the lower back, as well as several patterns on the left ankle and right wrist. Overall, chick tries always to look appealing and eager, despite her age that had long passed for the third decade. But the German beauty kept her body in very good shape by regular exercises. It is noteworthy that the blonde German actress has not performed anal sex so far in her career.
Personal Life and Likes
Nina grew into a military family in Germany. In her earlier years, she was very shy but a happy girl – a girl of the pope. She entered the adult industry, saying that she always liked to be naked (her mother barely kept her from undressing, when she was little!) and she loves to show her body, so it seemed natural to Elle to start working in the adult entertainment industry.
Before getting into the adult industry, Nina was working as the dental assistant. She says that she first became interested in porn while watching "Oprah." One night she watched America show Oprah, and there she saw a family of Georgia that supported a girl working as a webcam model. Elle at the time was facing hard times, and she did not want to be poor, so did a bit of research and found one of the best sites with webcam models and she subscribed to it the next day.
But after performing in front of a webcam for some time, she turned towards hardcore porn. With regards to her work on the part of the family, Nina Elle says that her dad thinks she is a model. Her sister knows, but they do not speak in detail to avoid any problems between them. Her mother knows, and she supports Nina. Her mother is of the view that Nina has got a beautiful body, and she has got all rights to earn money by showing her sexy body.

Nina Elle – Blonde Busty German Beauty
Nina Elle admits that she was always naughty and slutty in nature even before joining the porn industry. She had a couple of boyfriends during her highschool time, and she always enjoyed spending time with boys. She always loved to get fucked and now the difference is simple that she is getting paid for what she had been doing in the past without getting paid. Nina doesn't like to watch her own porn movies as she is very self-critical.
Nina Elle still recalls her first scene that was of lesbian genre. She was very nervous because never had she done such thing to a woman, and she did not know what to expect. It was her first scene, and she was quite uncomfortable. After that, she had different scenes with the boys, and she was not nervous. The guy with whom she first performed was Kieran Lee, and he was her good friend due to which that scene with him was more natural. As far as Elle's favorite position is concerned, she says that she is an old-fashioned girl and likes a missionary style. She just loves to feel the guy on top, fucking her deeply and kissing her madly.