Morgan Lee
m4rc0f
Morgan Lee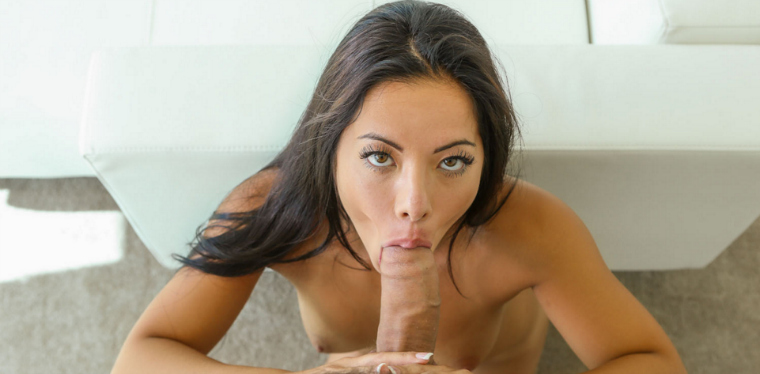 Bottom Line
Morgan Lee truly loves what she does. As a stunning girly beauty, she loves to go about with men, invite and flirt with them online and via the movies she performs in. All the best scenes in the movie titles are good for her; she goes with the most adored topics and genres naturally, just a like a good girl does, enjoying each moment and fun.
Morgan Lee
The stunning brunette beauty Morgan was born on 26th of March. No-one seems to know or tell her birth year. That is ok, as the respectable and honorable girls preserve their right to hide their age. Her wonderful pretty face though tells us that she might be living just her perfect stage in her girly life. She comes from Chicago, IL, US (or from Omaha, Nebraska, as she seems to write herself), and has not been publicly active in the adult industry for long time yet, still already now she has collected extensive and remarkable record of movie credits in diverse set of adult movie titles.
As it is widely known, mixing the contrasting themes will usually contribute to developing a tasty and lovely soup. Maybe also that has happened in this case, as she reports that her origin is a thrilling mixture of four distinctive identities.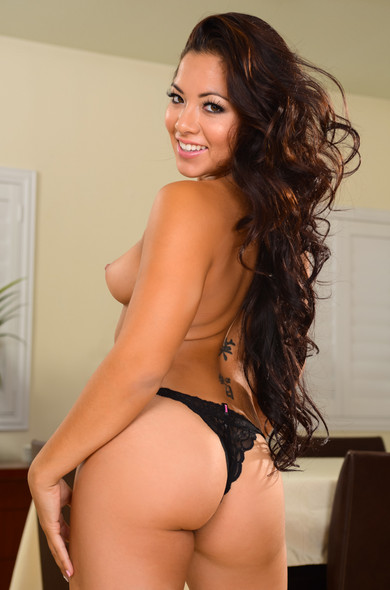 Extensive filmography
Despite that she is newcomer in the adult industry, or maybe just because of that, she has already acquired her role in nearly 50 titles for the most known and respected movie studios and brands like Lethal Hardcore, LeWood, Jules Jordan Videos and Digital Sin, just to name a few. Also widely known and acknowledged Evil Angel has been distributing the titles she has been performing in.
She won't stay away from the most thrilling and exciting scenes, let it be an anal show, cum swapping or other contemporary hit scenes. Surely as she gets more experience and insight, she could be one of those to develop new styles and genres to the world. As with all that energy she has, she can invent and mix new things from all the good that was there in the past.
Calming down the beast
Her mind must be pondering day and night on how to calm down the angry beast inside her, pushing her towards all these exciting and awesome encounters, trials, and jobs. She loves all that sexy and fun, dirty movie titles like "Corrupt Girls", "Brothers and Sisters", "Dirty Santa" or "Oral Angels" are all good for her. And after all, for her age it would not be good to work with the old titles anymore, but head on with full energy to build up new and exciting stuff.
Surely she has no issue in dealing with her developing sexual energy, but she just goes on transforming that mystic power into wonderful movie titles like "Asian Persuasion", "Asshole Auditions" or "Babysitter Diaries".
Where did this pretty girl come from? Why now, and how did she deal with issues previously in her life?
Naïve and Innocent
Even though she goes about online inviting men and why not girls too to encounter with her, she seems to be very professional in handling her public image and figure. She runs a Twitter profile, invites people to call her and ask for any details. Is she too innocent, if not even naive? Or is she real at all? For her, the social media seems to be mostly about advertising, posing recent movie links and screaming occasional "Hello to the boys" to the ether of the vast and deep global network.
However this innocence and indeed with some kind of naivety into it, builds up an interesting and exciting public image, which appeals to many people around the world and which builds up her global identity faster than any caliphate ever could.
The strength of mentoring
The same that applies to all the other successful actors and performers, the fact that the success lies partially in the own devotion and effort, yet as much also in the social connections and the generosity of the masses. Still interestingly there is always a decent amount of randomness to the success. Sometimes things just happen, without further planning, sometimes people just happen to be there at the right moment. No amount of strategizing can produce the random events nor replace their value. In some sense, one could think that the stars in the sky are the byproduct of these three phenomena colliding.
In the case of Morgan Lee, one then could ask who are her mentors in adult industry?. Who opens up the doors to the parties and castings? Who loves and who hates her. And what is more, relevant and interesting, what are the dynamics she applies in working with these social surroundings. Did she already meet losses and exclusion, or were all the parties to the day just favorable and good? As her career goes on, she surely needs to learn and face all the realities of life, and they might not all be that favorable, yet all of them are good learning points in life and bring about good material to build one's identity and in some cases even the public image.
However as lovely as she is, and with that extensive experience in dealing with one of the most important sources of energy in life, the love, and sex, there should be nothing coming along on her path which she could not overcome with her energy, the support and critique from her peers and the clever usage of the random events as they happen to occur. It's the only question for her, to keep the eyes and ears open and act swiftly when the door opens for her.