Mia Lelani
m4rc0f
Mia Lelani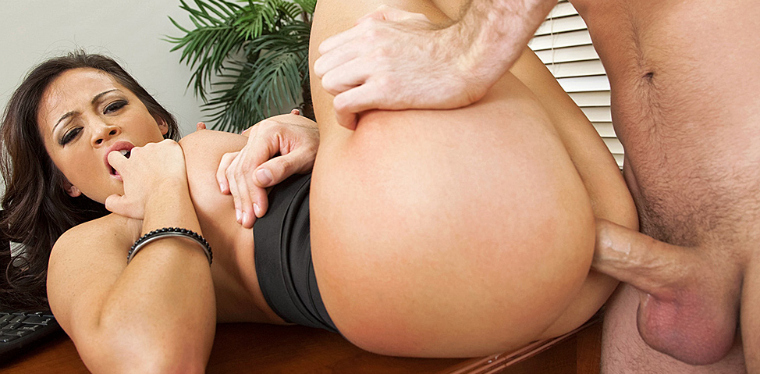 COUNTRY
Riverside, California, USA
Bottom Line
Mia Lelani has been lucky from the very start in the porn industry, and she received a lot of offers from famous porn companies. She knows that she is hot and sexy, and that is the reason she is always in demand. Her brilliant sex moves and natural acting are the main sources of attraction for porn producers and fans.
Mia Lelani
Mia Lelani belongs to the state of California, United States. The girl was born on October 14, 1982. The black-haired beauty has a good height of five ft 3 inches, and she weighs around 57 kgs. Her real name is Danielle Fernandez. Her natural brown eyes and body measurements of 34D-28-36 can easily attract men quickly. She owes her exotic features and beautiful body to her diverse Irish, Filipino and Lebanese roots. This rare blend makes her look more sexy and beautiful. Mia Lelani entered in the porn business when she was about 24 years old. According to the porn star, she was always attracted to the porn industry from an early age but due to some reasons she joined the industry later than usual. She says that she took so much time to decide what career suits her best and finally she got the answer in favor of adult industry. It is a fact that her professional activities in the erotic business are not an accident. It's safe to say that the desire to be a pornstar was the ultimate dream of this girl.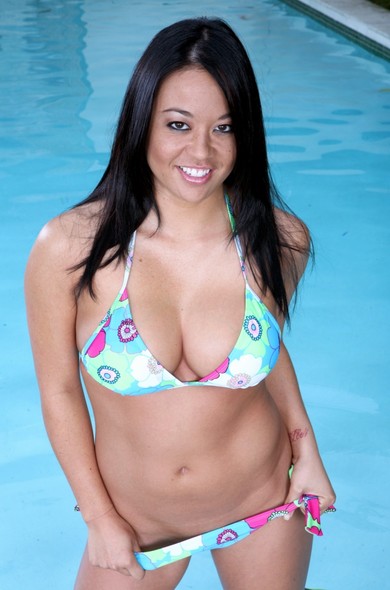 Adult Entertainment Career
Mia Lelani kicked off her career in the porn business in 2006. The girl has performed in a lot of porn movies with different genres, and she has worked quite hard to make herself a famous porn actress. Now she is at the peak of her career. The American beauty has performed in a lot of porn genres like double penetration, BDSM, lesbian plays, anal sex, interracial, etc. And it's not just the looks, she looks fragile and delicate when she appears on the screens. It creates a really good combination when the girl is showing off her sexy parts and playing with a sex toy to amuse the porn, viewers. She can switch on the sexual hormones of anyone through her incredibly sexy body. Apparently, she has made such a strong fan following in such a short span of time. A distinctive feature of Mia Lelani is her originality. She acts in porn movies in such a natural way that reminds every one of private bedroom sex. The actress is so proud of her appearance and refers to herself as evergreen. Mia Lelani gets enormous pleasure from getting close to beautiful and powerful men, and she is always ready to offer her perfect body. Anal sex for the actress is a kind of business card. It's her identifier, If you see Mia in a film, be sure to anticipate anal sex later on. There is hardly any film with her participation without such scenes. Mia Lelani loves to show her ass on the screen, and people love the way she performs gaping to amuse them. The girl has shown her slutty talents in a lot of porn blockbusters like Big Boob Orgy 3 in 2012, Doggy Trained in 2014, Drive Me Crazy in 2012, Edibles: Appetite for Sex in 2013, Invading My Privacy in 2012, Ready Wet Go 7 in 2013, Titties n Lace 2 in 2014, Water World: Underwater Sex 2 in 2013, BJ Suck-A-Thon in 2011, BJ Suck-A-Thon 2 in 2014, Cream on the Inside 2 in 2012, Cream Pie Cravings 1 in 2008, Kiss Me Deadly in 2010, One Last Ride in 2008, Oral Overload 2 in 2011, Simply Asian in 2014, Big Tit Hookups 1 in 2010, Threeway Thrills in 2014, When My Boyfriend's Away in 2015, Big Tit Cream Pie 21 in 2013, Fuck Team 5 11 in 2010, Mia Lelani in 2006, Orientation in 2011, Orientation 3 in 2012, Big Tits at Work 17 in 2012, Big Tits At Work 20 in 2013, Big Tits in Uniform 14 in 2015, One Sorry Slut in 2011, Dirty Letters 1 in 2007, and ASSistant in 2009. Mia Lelani is all set to perform in her new porn movies with some more excitement and pleasure for the viewers of porn around the globe.

Personal Thoughts and Private Life
Mia Lelani is a fun loving girl, and she likes to live her life freely. She is of an independent nature, and the girl doesn't like to be dictated by anyone. As an important fact, Mia Lelani loves to suggest her directors about the moves in her porn movies which are seriously considered and implemented. She has creative skills that she implements in her porn movies and are appreciated by her fans. Today, the popularity of the actress relentlessly grows with each new film. Fans of adult movies are always looking forward to new works by this burning, sexy brunette with bouncy boobs and innocent looks. Mia Lelani likes to stay in touch with her fans around the world through her Twitter and Instagram. Throughout her career so far, the girl has appeared for a lot of porn studios like Naughty America, New Sensations, North Pole Enterprises, Pulse Pictures, Elegant Angel, Studio 69, Vouyer Media, Mike Adriano Media, Wicked Pictures, Jonni Darkko Productions, Heartbreaker Films, Hustler Video, Tom Byron Pictures, Immoral Productions, Joey Silvera Productions, Digital Sin, The Ass Factory, danni.com, Penthouse, White Ghetto, Vivid, 3rd Degree, Bang Bros, Antigua, Reality Pass Plus, Brazzers, Reality Kings, Adam & Eve, Zero Tolerance, and Next Door Entertainment. Male performers in the industry love to fuck this girl as she provides the maximum pleasure to them that they require. According to the actress, her hard work and dedication is obvious due to the fact that she is performing in the porn industry for so many years, and she is not planning to quit from her dream world i.e. porn industry in near future.