Linda Sweet
m4rc0f
Linda Sweet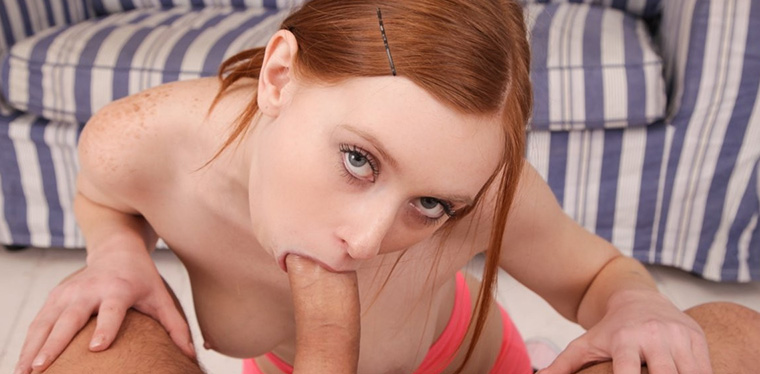 Bottom Line
Linda is not fond of the soft mode of fucking, but she likes to get fucked in rough and harder way. Anal penetration and solo masturbations are her specialties, and she is widely appreciated for these genres.
Linda Sweet
Red-haired girl from the Czech Republic was born on November 8, 1993. This new porn actress has got a noticeable height of 5 ft. 6 inches and her weight is 110 lbs. She has multiple stage names, such as, Jaroslava and Jarka, but she has now chosen Linda Sweet as her final stage name. The actress has the navel piercing and has magical blue eyes that attract the opposite gender towards her. Her body measures 33B-26-35 and most importantly her tits are natural. Linda doesn't feel comfortable to show her sexy body with artificial touches, and that is the reason she hasn't undergone any kind of breast enlargement surgery. According to Linda, she doesn't need breast enlargement since her natural tits are enough to make the guys crazy. This red-haired girl is a true cock lover, and she likes to have sex in a rough and tough way. Linda Sweet is crazy about anal penetration, and it attracts her the most when she is asked to perform anal scenes. She believes that anal penetration is much more powerful and pleasurable for both the partners. She loves wild rough fucking. She likes if she is started off with intimate kissing and licking beneath the sweet spot on her neck and then bring out the slut in her. During sex, Linda becomes totally opposite as compared to her innocent looks. She is almost irrepressible when her sexual drive is at its peak, and that creates more excitement in her porn movies.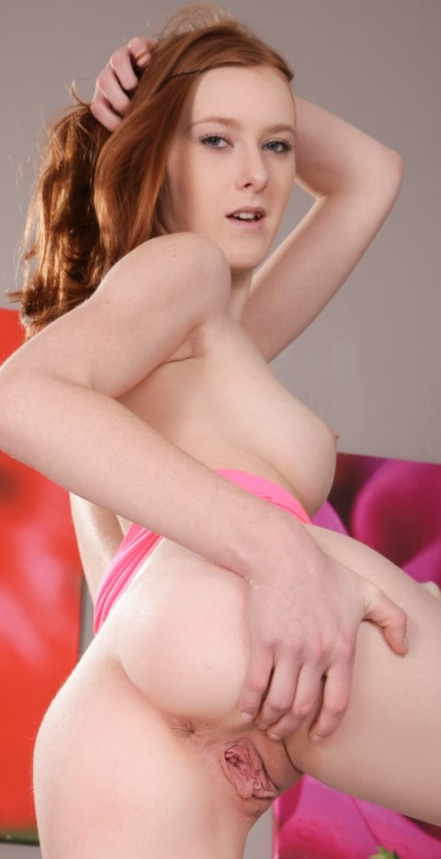 Adult Entertainment Career of Linda Sweet
Linda Sweet entered the porn industry almost two years ago in 2013. She, from the beginning of her career, was focused by different porn directors and studios due to the innocence on her face and wildness in her nature. Czech porn star Linda Sweet seemingly gentle and inexperienced, but after few seconds of seeing her performances, the perception of viewers changed totally. She is considered as a lustful and full of life slut who likes to give all her efforts in the shootings. She usually asks her male costars to deeply and powerfully enter the dick into her ass, and that's what she is fond of. Linda is just 22 years old. When she was twenty, Linda started acting in commercials for adult audiences. She is also known in the industry as "Insatiable red cat" due to her red hair and sexy nature. She went to the sex therapist and asked him about her gluttony. She was sure that there is such a rare disease, as "uterine fury", but the doctor did not find anything like this and sent her to the psychologist. In a nutshell, no disease was found after her thorough checkup, and they concluded it as her impulsive and hot nature that was out of the range of doctors. Blue eyed cute girl is constantly lit with a desire for sex. Indeed, she is an ardent fighter against all sorts of prejudices. Linda Sweet was disappointed in the religion when her cousin, a former priest, began to inappropriately touch her to have sex. She was shy in nature, and did not try sex after that incident. However, now she is completely a different girl. Linda doesn't like to recall her memories when she was a shy and cautious girl. This lovely redhead slut from the Czech Republic likes group sex, especially when two male porn stars penetrate deep into her ass and pussy. In such scenes, she likes to such the dick of the third male porn star to get the ultimate pleasure. Linda Sweet, in group sex scenes, causes them to stop all at once, to swallow the sweet sticky sperm. She loves to wash her pretty face with juicy liquid, and that's also the best thing that happens while performing. Her friends are always there to motivate Linda, and that means a lot to this slut. She likes to change her sex partners quite often as she gets bored getting the same dick into her pussy every day. Linda Sweet has acted in a number of porn movies in her career some of which are, Mr. Anal 17 in 2015, Christoph's Anal Attraction 4 in 2014, Heat of the Moment in 2015, Honey Heist in 2015, Sensuality in 2015, Private Gold 192: 5 Shades of Private in 2015, Private Gold 174,Slutty Girls Love Rocco 8 in 2015, Pure Girls from Europe 10 in 2015, Pure Girls from Europe 9 in 2014 and Fiery Redhead in 2014 among many others. Linda Sweet in her career so far has attracted the attention of many porn companies and has worked for mainstream productions like Bang Bros, Bang Productions, Clark Euro Angel Video, Dane Jones, ddfnetwork.com, eurogirlsongirls.com, Evil Angel, Juicy Entertainment, Lesbea, Private, Rocco Siffredi Produzione, Seventeen, sexvideocasting.com, Video Art Holland, and White Ghetto among many others.

Personal Likes
Linda Sweet loves to socialize with new people. For this purpose, she goes to nightclubs and interacts with different people over there. She has a pool of friends from different social backgrounds, and she loves to spend time with them. She is fond of rock music, and she likes to listen to it loud at home. Linda is a regular member of a local gym, and she believes that it is always good to preserve the natural shape. She has got a male gym instructor who instructs her for different exercises. Linda Sweet likes to have sex with him after the exercise. She is of the view that it is all about a strong cock, and one must grab the opportunity as soon as it arrives.